Our Riverside Porsche dealership serving Los Angeles is the destination for the latest and greatest sports cars. Whether you're looking to get behind the wheel of the 911 GT2 RS or the Cayman GT4, we aim to be your go-to car dealership when you're looking for a Porsche with a powerful performance. Although we are a high-volume Porsche dealer, it's not uncommon for our strongest performing vehicles to be purchased quickly. If you can't find the new Porsche model you've been dreaming about in our inventory, Porsche Riverside will be more than willing to order it for you!
If you're looking to take to the streets in the greater Los Angeles area in some of the fastest, strongest Porsche models, we recommend checking out these impressive vehicles:
View Inventory
Order Your Porsche Today
Porsche 911 GT2 RS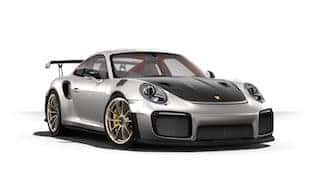 Get ready to take on the most powerful Porsche 911 model ever created—the Porsche 911 GT2 RS. This super sports car boosts an exhilarating performance like no other. As you power up its 3.8-liter six-cylinder twin turbo engine, you can expect an astonishing 700 hp. Engineered to provide the ideal aerodynamics for a racetrack, this Porsche model was crafted with extremely large side air intakes, an additional air outlet at the front of the hood, and a rear spoiler lip that greatly contributes to downforce. Constructed with the lightest functional materials in order to increase performance, this athletic car was designed to soar.
Max Power of 700 hp
0-60 mph in 2.7 seconds
Top Track Speed of 211 mph
Porsche 911 GT3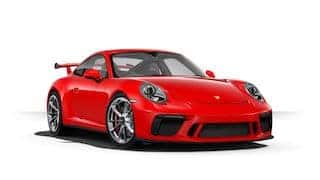 Offering 500 hp and 339 lb-ft of torque, the 4.0-liter six-cylinder engine of the Porsche 911 GT3 allows for a spirited, breathtaking ride. With a chassis setup meant for racing, you can expect phenomenal pitch, roll and directional stability, as well as impressive steering precision from this speedy model. For racetrack use, its toe angle, camber, and anti-roll bars can be adjusted individually. As you come to a halt after a fast trek, you'll be utilizing the 911 GT3's high-performance brake system with six-piston aluminum brake calipers at the front and four-piston equivalents at the rear axle.
Max Power of 500 hp
0-60 mph in 3.2 seconds
Top Track Speed of 197 mph
Porsche 911 GT3 RS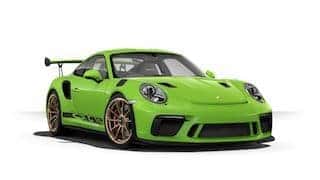 The bold and daring Porsche 911 GT3 RS offers a performance of high intensity; ideal for motorsport lovers who are brave enough to embrace a challenge. Power up this high-performance sports car's 4.0-liter six-cylinder engine, and you'll be boosting the soul behind this impeccable ride. This Porsche model's high-revving concept, a main principle from motorsport, offers great robustness as well as significantly high engine speeds meant for the racetrack.
Max Power of 520 hp
0-60 mph in 3.0 seconds
Top Track Speed of 193 mph
Porsche Cayman GT4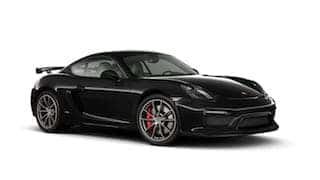 Whether you're embracing an ecstatic ride on the racetrack, or courageously cruising through town, you can always expect a fully-charged driving experience from the Porsche Cayman GT4. Equipped with a large-volume 3.8-liter six-cylinder engine specially tuned with different valve timing and given its own unique injection system; you can expect to go far, and fast. Although the Cayman is already known to confidently handled the tightest of turns and curves, this characteristic has been enhanced to the maximum in the GT4 model.
Max Power of 385 hp
0-60 mph in 4.2 seconds
Top Track Speed of 183 mph
---